The Trans Wisconsin Adventure Trail is a 600+ mile route that starts at the Illinois/Wisconsin border near Galena IL, and finishes northeast of Cornucopia Wisconsin at Lake Superior. This route has taken on the acronym of  T.W.A.T., so you may hear it being called that, I usually just call it the Trans Wisconsin Trail.  The T.W.A.T. was designed for dual sport and Adventure style motorcycles but it can also be done by high clearance vehicles with a slight route change. There are no paper maps available, this route is very difficult to navigate with maps, although having a good map with you is a good idea. If you do not use GPS and want to do the route, do yourself a favor and either buy one, or find a buddy that has one and follow them.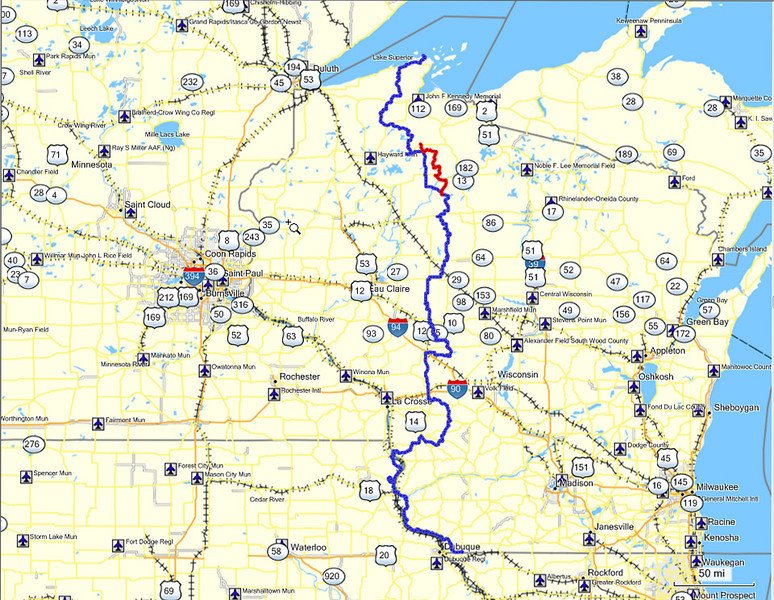 GPS Files:
My GPS files are available for download from the Dropbox link listed below. 
ATTENTION! – Before you attempt to download the GPS file, be aware that in order to view or use the file you will need a program or application that works with .GPX files.
If you do not have software or an application that views GPX files, if you attempt to open the file it will not work right.
Also – If you are on a computer, you will need to right click the Icon, or possibly click on it and download it. If you right click on it, you may need to select "Save Link As" and then save it to your computer.
If you have any questions or issues, feel free to email me at rokklym@gmail.com
GPS helps you reroute in situations like the one below. You can reroute and get back on the route with minimal fuss.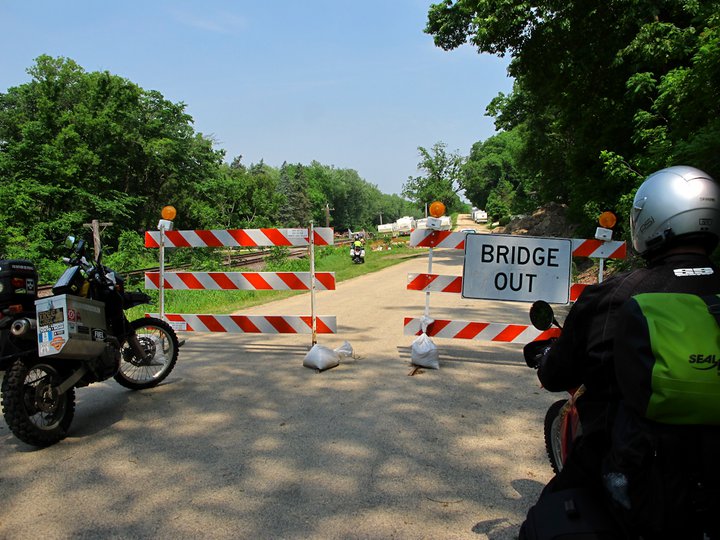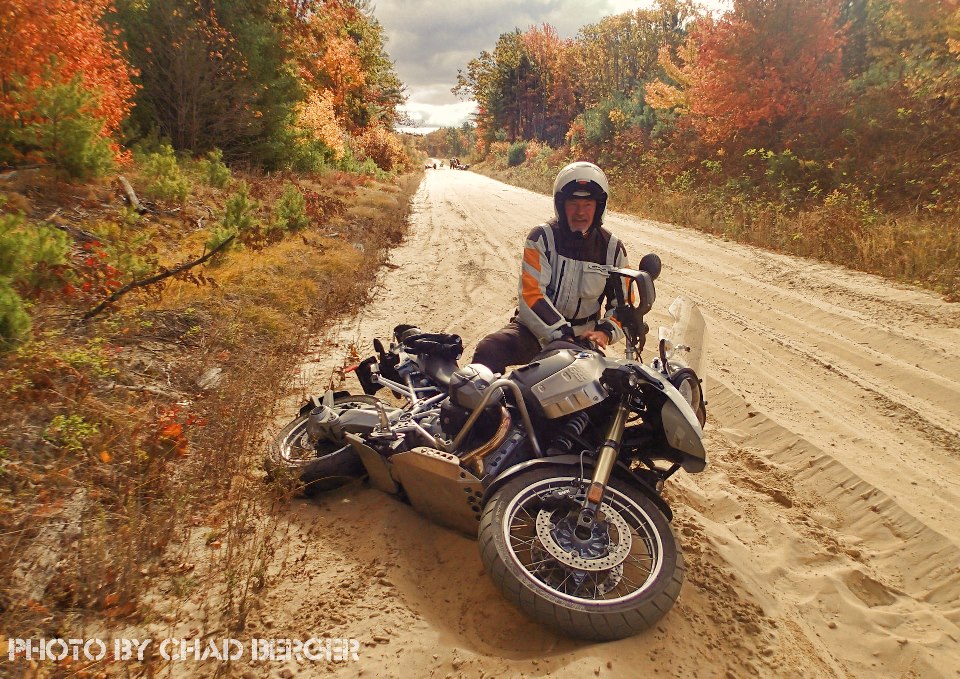 Warning: I am providing these resources free of charge to show others the routes I have ridden in the past.  I am not promising that these maps are accurate or safe, it is up to you to use your judgement to ride safe and navigate safely.  Motorcycling is inherently dangerous and the road conditions can change at any time.  All roads that I have included are legal for travel by street legal motorcycles at the time of this posting, but that can always change. It is  get lost and on the wrong road or trail,so keep a close eye on the map and/or GPS.  Please respect all traffic signs, trail markers, trail closures and use common courtesy for other trail and road users. Remember that someone lives on the quiet road you are riding on, its not a racetrack. Be prepared for DEEP sand, ruts, mud, dust, livestock in the road, horse and cow manure, deer, bears, porcupines, possums, turkeys, logs, low hanging branches, barbed wire, drunk or distracted drivers, bear hunters running dogs, logging trucks, ATV's, rednecks, amish, bad roads, no roads, lakes, streams, washouts, police, sharp unmarked corners, etc. Be aware you can die at any point along this route, regardless of your skill level.
Q & A – Questions and answers
1. How long should I plan to do this route?
It usually takes me 2 1/2 days to do the actual route, then you have to figure in your time to the start and back home again. You can certainly do the route faster, but take your time and enjoy it. There are a lot of interesting things to see along the route!
2. How difficult is this route?
Most of the route is easy paved and gravel roads, with the option of riding ATV trails in a few areas. There are areas of the route north of Black River Falls and north of Drummond that can have deep sand. The weather and other factors change the conditions of the route on a continual basis.
3. What bikes are best suited for the T.W.A.T.?
I think a 650 Dual Sport is the perfect bike for this ride. They handle the rough stuff pretty well, get good gas mileage and they work well on the highway on way home.
4. Tires, are knobbies required?
If you are even thinking this, then yes, they are. I have ridden with people that didn't have them, but the people that have good knobbies have a lot more fun. I prefer to limit my crashes as much as possible, and knobbies are cheap insurance. Dunlop D606's, Pirelli MT-21's, and Continental TKC-80's are the most commonly seen tires.
5. Camping or hotels?
I have done it both ways, I prefer camping but it depends on the group. There are great options for both along the route, but camping is easier to find, especially along the northern section of the route. Riding without camping gear is always more fun, but this route is a good shakedown run for longer trips, use it to learn what works!
6. Do I need any stickers or trail passes?
No, if you follow this route with a street legal motorcycle you do not need anything other than your plate.  There are plenty of ATV trails nearby, if you choose to ride them make sure you check the rules at the trailhead.
7. Do I need a GPS?
No, but they make it so much easier and quicker to navigate the route that they are really the only good option. Of course, its always wise to have a paper map along in case you need to change your trip.
8. Do I need to haul fuel?
Probably not, as long as you don't skip any gas stations. I wouldn't do the route with less than a 75 mile range.  I prefer to have a 200 mile range so I don't have to stop all the time as gas stops tend to waste time if you are in a group.
9. I don't like planning, is their guides available?
Yes, RIDE Adventures offers guided tours on the route, check here for info!
http://www.rideadv.com/tours-by-type/dual-sport-motorcycle-tours/trans-wisconsin-adventure-trail-guided-motorcycle-tour-usa/
10. The Delta Diner, is the food really that good?
Yes, you have to stop here on your trip, its one of the highlights for sure! Very cool place and very popular, so plan ahead!